Switch to iPad: Issue 12
About the Time Flies Apple Event
Hi!
Apple held its Time Flies online event yesterday (last night for where I am in the world). They announced two new Apple Watch models (Series 6 and a cheaper SE model), the Apple One package and the upcoming Fitness+ service, a spec bump for the basic iPad model, and a new iPad Air model. No iPhone, which was expected. Apple also announced the launch of their mobile operating systems (iPadOS, iOS, and watchOS – tvOS has yet to arrive) for today, as in you can get it now, no beta required.
So yeah, this issue of Switch to iPad will be a bit different.
---
🆓 This is a free issue of Switch to iPad. If you like it, please consider supporting my writing with a subscription, and get access to the paid issues too! Thank you!
---
iPadOS 14 is out
The most interesting thing Apple had for iPad users was obviously the release of iPadOS 14. I've been running the developer beta since they launched it, and it's gone from a buggy mess, to something that just plain works. I love the new look for both Spotlight (which I'm sure you're using a lot more after reading the Spotlight issue) and Siri, as well as call notifications – everything's less intrusive. Being able to use Apple Pencil in input fields, with great text recognition, makes my design sessions with the iPad a lot more pleasant. The new widgets are great, although I wish I could place them freely on the home screen like I can on the iPhone with iOS 14, and why oh why isn't emoji search available on iPadOS 14?
Anyway, these are all things you'll find out for yourself within the first couple of minutes of iPadOS 14 usage. There's no point in me detailing these things. Besides, there'll be mammoth overviews all over the web in a couple of days.
I like iPadOS 14, it feels like a solid release, and makes the iPad a lot more enjoyable to use. It's too early to say more than that though, so I'll get back to you when app developers have had a chance to update their apps, and we'll see what interesting workflows there'll be. For now, it's mostly polish, and some love for Pencil users. That's fine though, it's another step towards the kind of iPad operating system and experience I want.
⛔️ Maybe wait?
You might want to hold off on updating to iPadOS 14 for a little while, at least that is what some app developers are saying. They're just not ready for iPadOS 14 yet, so if you rely on a specific app for work, read up on how it works before pressing the update button.
The new iPads
I'll be honest, I didn't expect the iPad Air to adopt the Pro form factor, with USB-C and all. That makes it a great pick for someone shopping for an iPad, because the new A14 chip surely (probably?) outperforms the A12Z in the current iPad Pros. By how much? We don't know, it's just a lot faster than the previous iPad Air. Apple was a bit light on the technical details, and that can only be explained by the fact that they're saving it for the upcoming iPhone 12 reveal and event. That's when they'll spill the beans on the A14 chip proper, because that's when they want to rub the iPhone's complete power dominance in the face of the competition.
The new iPad Air is in a weird place though, or rather, it muddies the iPad lineup a bit. It can use the Magic Keyboard originally made for the 11" iPad Pro, but the Air's screen is 10.9", so the bezels must be a tiny bit bigger on the Air compared to the 11" iPad Pro. It also uses the second generation Apple Pencil, the magnetic one. 
At first glance they look the same, the new iPad Air and the 11" iPad Pro, but there are differences. First of all, the iPad Air doesn't have the full camera array, just the one 12 megapixel wide lens. The front facing camera isn't the TrueDepth like on the Pro either, so while they're both 7 megapixels, it can't do Portrait mode or be used for Animojis or Memojis, nor does it work with Face ID. Instead, the iPad Air has Touch ID built into the top button. Furthermore, the Air has two speakers placed for landscape mode, whereas Pro models has four speakers. The Air screen doesn't have ProMotion and is somewhat less bright (500 nits compared to the Pro's 600 nits). It's also a wee bit thicker, but weighs a little less. And, to wrap all the differences up, the Air comes with up to 256 GB storage, starting at the puny 64 GB, which will disqualify an otherwise truly capable machine for many users.
The storage limitation is interesting, because that's surely put there just to make sure that the iPad Pro, which can have up to 2 TB storage, has a better selling point. "Pro" doesn't just mean better hardware and more features, it apparently means more storage too.
So where does that put the new iPad Air in the lineup? Who should get it? Well, probably everyone that are okay with spending the equivalent of $749 (or $879 if you want cellular too) for the 256 GB model, but not any more than that. I guess that makes it a reasonable model to have in the lineup, because there's quite the jump to a 256 GB 11" iPad Pro (starting at $899), but then again there's also a lot more features in the latter.
I do like the color options though. I think a lot of people will opt for the iPad Air, because besides the storage, most people don't actually need the Pro features.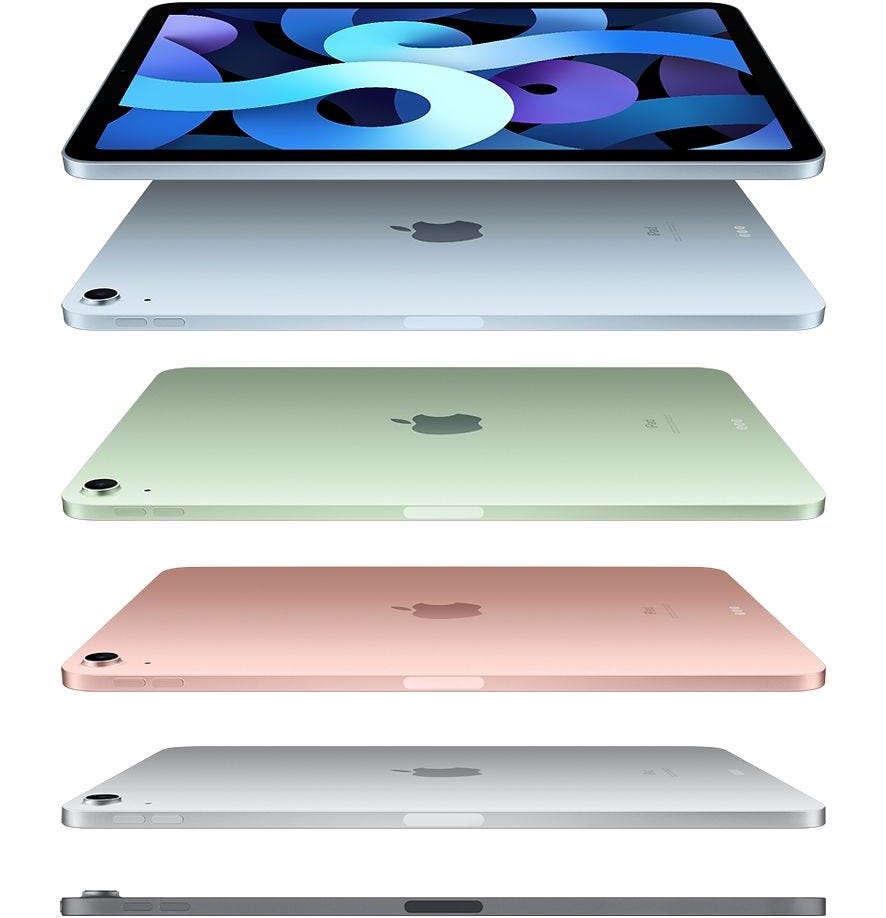 The new basic iPad, called just iPad (8th generation), continues to be great value for money. It's updated to the A12 chip, which isn't the same as the A12Z that sits in the iPad Pro models, but not far from it. This gives it feature and spec parity with the 5th generation iPad mini which is also on A12 with an 8 megapixel camera. But again, storage makes it a mess. The new iPad starts at 32 GB which is just too little for anyone looking to do other things than read, email, and browse the web on it. Then there's the 128 GB model, and that's it. Meanwhile, the iPad mini starts at 64 GB, with a 256 GB model. Both of these work with the first generation Apple Pencil.
All in all, good updates to the iPad lineup. The advice from the picking the right iPad issue still holds up though, except that the iPad Air is now an even stronger proposition thanks to the Magic Keyboard support. And for a while, it might be the most powerful iPad out there, we'll see if someone'll benchmark it against the iPad Pros when it ships.
So when is that? Don't know, probably a day or two after the iPhone 12 announcement, which'll be sometime October if the rumors are true. The 8th generation iPad has 5-7 delivery days as I'm typing this, so that one you can get if you're in the market.
---
🆓 This is a free issue of Switch to iPad. If you like it, please consider supporting my writing with a subscription, and get access to the full archive, including the paid issues. Thank you!
---
Apple Events always leave me a bit dazed. Tim & Co. announce a bunch of things, talk them up like crazy, and then you pre-order something, download it, or start wishing for it to arrive already. This year is a bit different because clearly all of the things from the Time Flies event should've been accompanied by an iPhone 12 announcement. Things like the Apple One subscription package, and Fitness+, clearly makes more sense tied to the iPhone, as do the Apple Watch which actually requires an iPhone to work properly...
But this isn't a normal year, and the Apple events aren't the normal ones. I'm not sure the latter is such a bad thing, though. I'd rather see more and shorter announcement events – Time Flies was about an hour, I believe – than the mammoth ones that leave you drained (which might or might not include your bank account) and tired.
So there. I'm looking forward to diving in deep with iPadOS 14 and share my findings with you, beyond the obvious ones already mentioned. Meanwhile, if you'd like to read up on all the things Apple announced yesterday, here are some links.
I'll catch you all later. Next time, we'll talk web browsers!
---
In the wild...